With all of the posts Notch and Jeb have been putting out regarding the 1.8 Update, also known as the Adventure Update, I decided to make a post on some of my thoughts and reactions.
So first of all, in case you are in the dark regarding the new changes, here's a link to Notch's post regarding the main changes that will be coming in 1.8:  link. 
1.  NPC Villages - this could be a great thing, especially for those of us who want vibrant filled worlds, but not really the time to build them.  Of course, this doesn't mean I probably won't be reworking the NPC houses.  At least, I hope thats possible.  And if I build some empty houses in these villages, I hope NPC's will start showing up and living in them.
2.  Randomly generated dungeons - for me, this is a really big thing, as the pictures that have been coming out for this, peak my exploration interests. This will include ruined areas and underground strongholds.
3.  New Biome Code - I'm not really sure what this will entail, but I do know that currently, the biomes are just randomly thrown around, without any real logic.  Eventually I hope Notch updates this, so that swamps and jungles, and ice caves and such are formed in addition to the existing biomes.
4.  More farming options - again, I'm not really sure what this is going to entail, but I'm hoping additional items are available for farming, such as corn and other vegetables, and maybe more options for fruits, like naturally spawning apples!
5.  Sprinting - obviously a good way to get away from creepers  :)
6.  Critical Hits - definitely a good thing when fighting the baddies.
That's the basics anyway!  I've read some people complaining that Minecraft is turning into an RPG, but I believe these new changes will make what is currently, rather lifeless worlds, into vibrant ones.  It will be cool, walking around running into NPC's.  I'm hoping some of these NPC's will also have jobs, like baker, and blacksmith, and such. 
I'm really looking forward to these changes, but feel sad because I'm going to have to start a new world, in order to enjoy it properly.
Hello again!  Yeah, I know its been awhile, but alot has been going on.
I've been doing a lot of building and mining in my current world, but just have not had the time to take pics yet. When I have the time, I will get the pics and then create full posts for the below areas. 
Pyramid
I did some work in the desert east of the East Tower, flattening the sand for a large area, and storing it, as well as any sandstone found, in a nearby hut.  I then mapped out a single 4 level pyramid, and proceeded build it using all of the sandstone that I had been gathering.  I'm not sure yet what I want to do with the interior, make it a traditional Egyptian style, or just make floors.  I have been using some of the yellow flowers I have been picking to create dye, and could easily make tons of yellow wool to use on floors, or walls, or whatever.  With the area that I've smoothed out, I think I can build another pyramid as well, but I was also thinking of doing a ruined one.  Lots of ideas here.
Wizards Tower
South of the East Tower I found a small hilly area, with a slightly carved out alcove.  I worked on removing stone, dirt, and gravel, and enlarged the alcove area by a small chunk.  I then put up some scaffolding around the area, with ladders to get up to the different levels, which would help with the building, and any reshaping of the alcove.  I then worked on building up the tower, level by level, and made sure it just barely peaked out of the top of the alcove.  I then did some cosmetic changes to the alcove, so that it didn't look like I had stripped it down.  I then went around and planted trees around the top of the alcove and near the entrance.  I then dug out some around the base of the tower, put some soulsand down as ground, placed gravel and some dirt in certain spots, and then filled in the rest with water.  I believe this gives the look of a swampy area, with the soulsand acting as quicksand.
Houses
I started working on building some houses on a raised area, which basically covers my dark room experiment.  I used all of the lapis lazuli I had been collecting and went around creating blue sheep for wool.  I used some of the dye with some green to also make cyan dye for wool.  I then created some basic shapes for the different houses, and started building.  I used the blue wool for framing, white wool for walls, and cyan for the roof.  I think the three houses I built look pretty good with the DokuCraft texture pack, and plan on making some similar style houses around the area.
So before I start work on the wall, I decided to make a library.  I've seen a bunch of cool designs, over the past few weeks, including some that remind me of the New York Public Library.  I decided to do a simple design as well, and while I have tried to keep the castle the main focus of the area, I wanted a grand design for the library.  I may come back later and increase the turrets of the castle, to make it taller.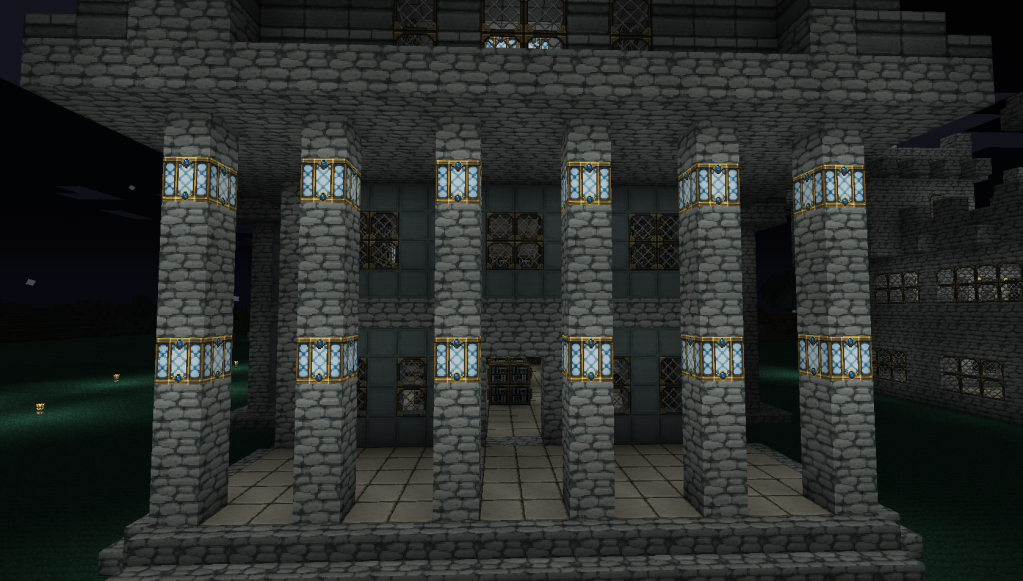 One of first things I had to plan for, was all the reeds that were going to be needed to make a ton of books.  So for 5 days while constructing this thing, once an hour when playing, I would run over to the arboretum and harvest the top sections of all the reeds and make paper.  I had to make 3 or 4 runs into the nether to get all of the glowstone I would need for this, and the beach area north of here was scavenged for sandstone and sand for glass.  Because the bookshelf texture is on the 4 sides, I decided to use signs as sides to show where you can't grab a book from.  I tried this with ladders as well, but signs looked better.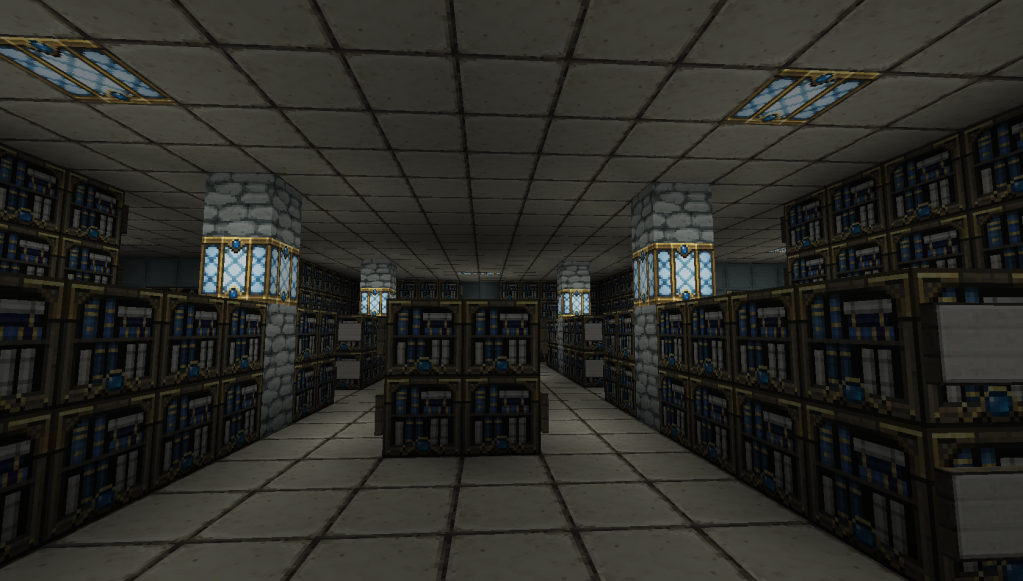 View from the entrance.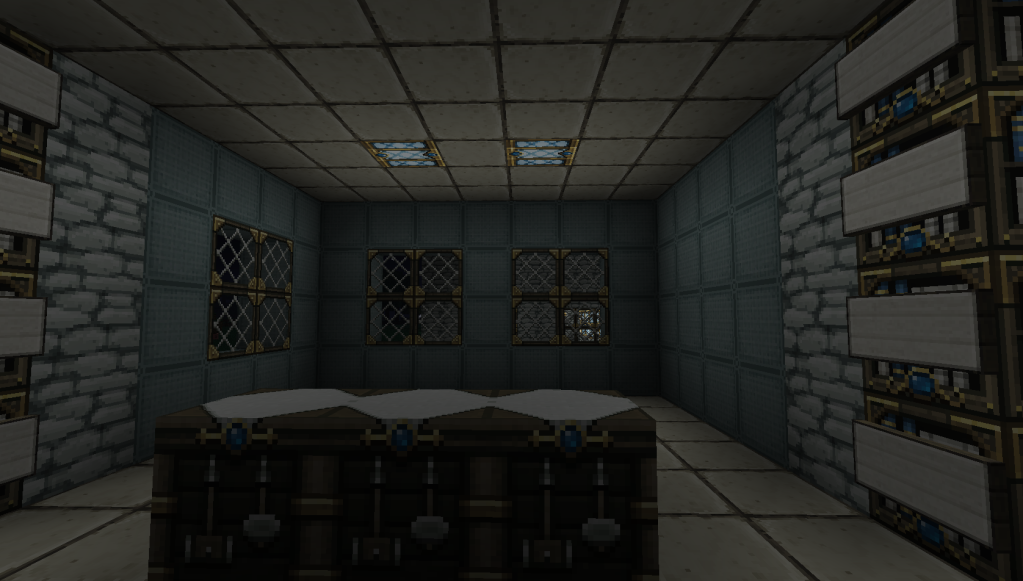 View of the 1st floor information desk.  The more I look at this, the less I like using workbenches as tables.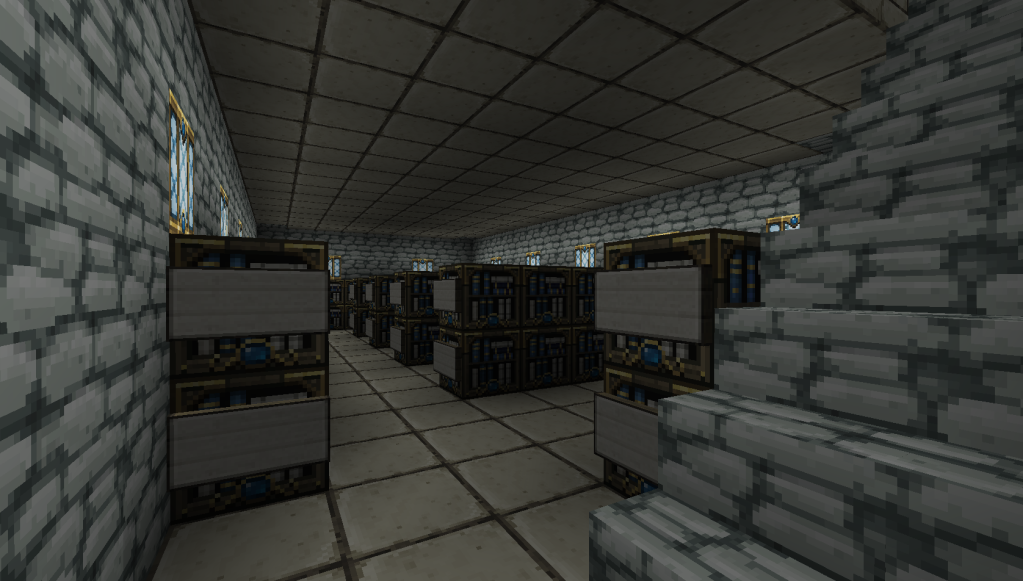 View of the basement storage area.
View of the 2nd floor area and main librarians desk.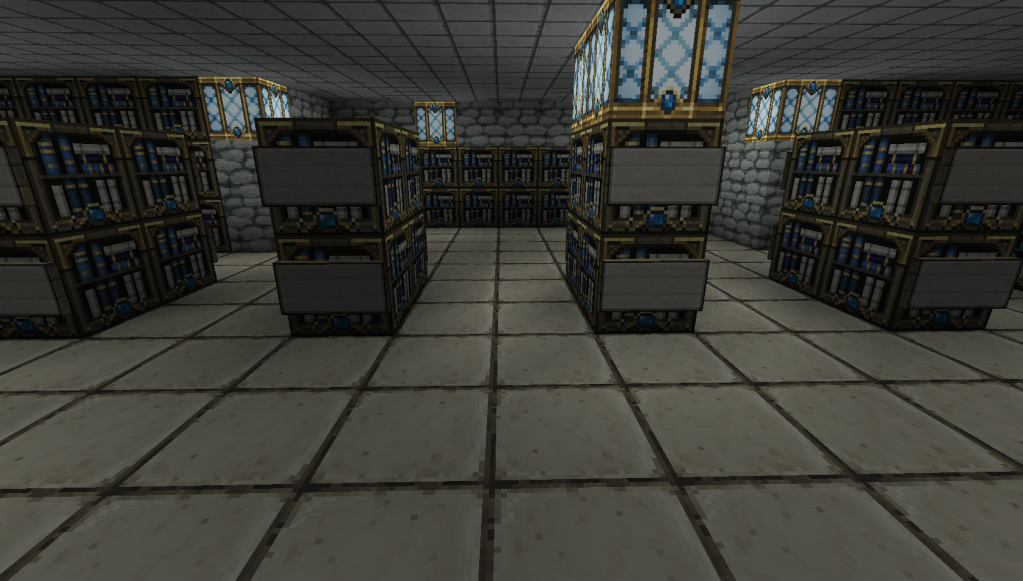 View of the top/attic area.
After doing this, I continued filling in the north beach area, and using the bonemeal trick, planted and harvested a bunch of trees to replenish my supply of wood and planks.
The West Tower is built on the snowy hill area, and like the East Tower, was originally meant to be rounded.  Like the East Tower, the West Tower was also formerly a Dwarven outpost, and overlooks a sinkhole created from a cave-in.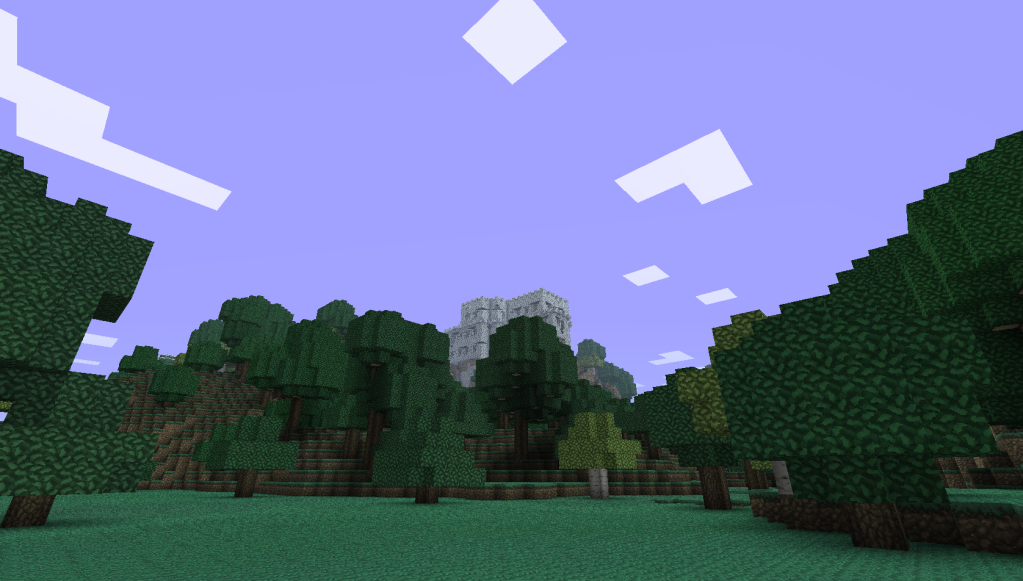 View of the West Tower from the base of the hill.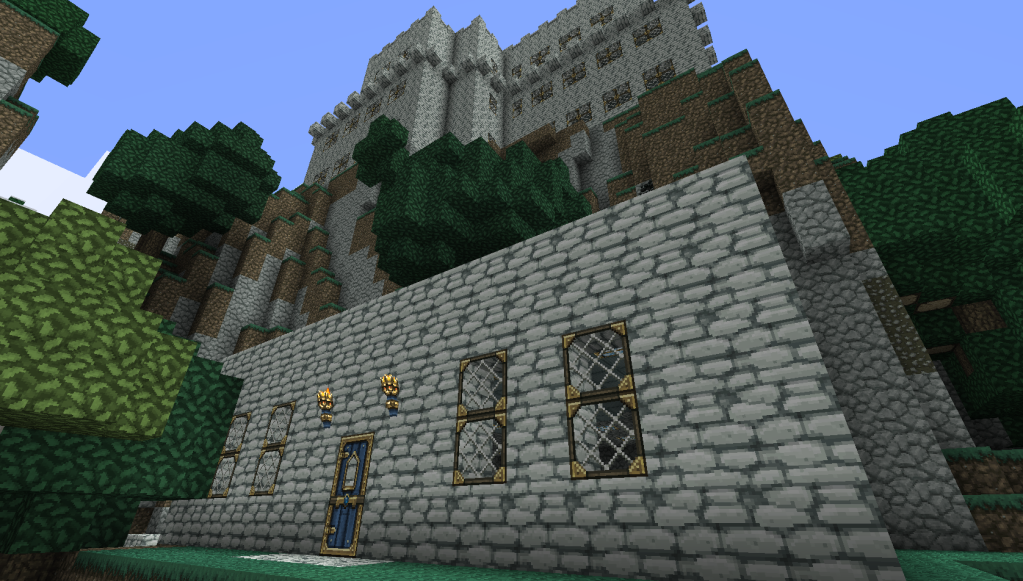 View of the entrance from the base.  This provides easy access to the tower above.
Inside of the entrance area.  I'm not sure yet what else to put here right now.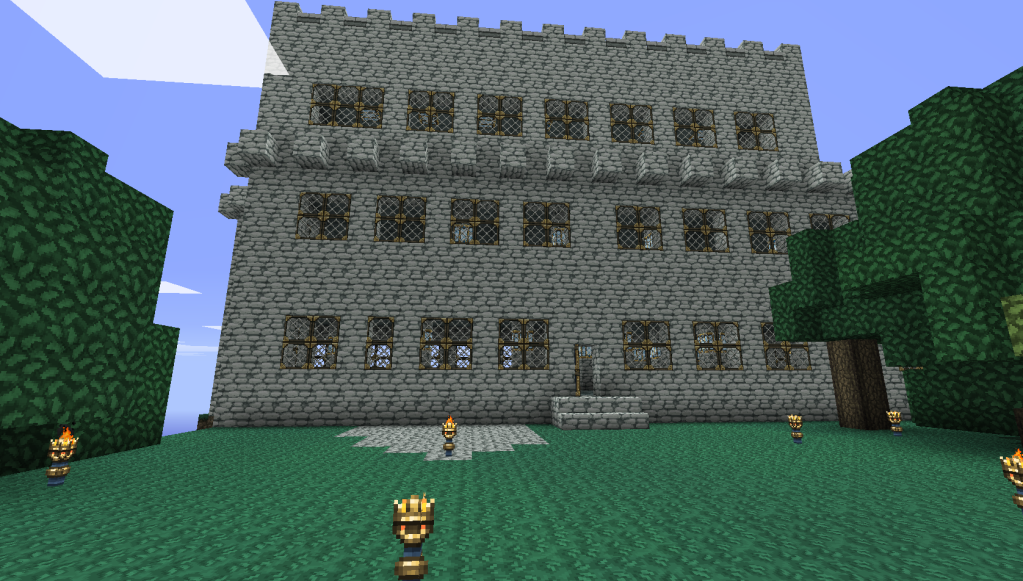 A view of the tower from the top.  I had to clear a large section of wood, dirt, gravel, and stone.
View of the first floor from the main doorway.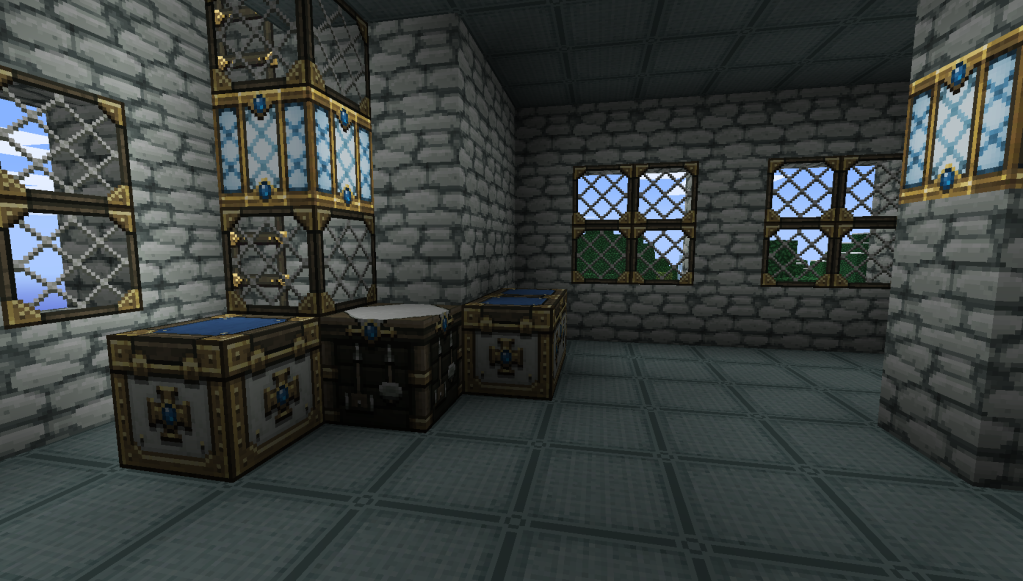 View of the 1st floor work area.  The ladder goes up to the above floors, and down to the entrance area.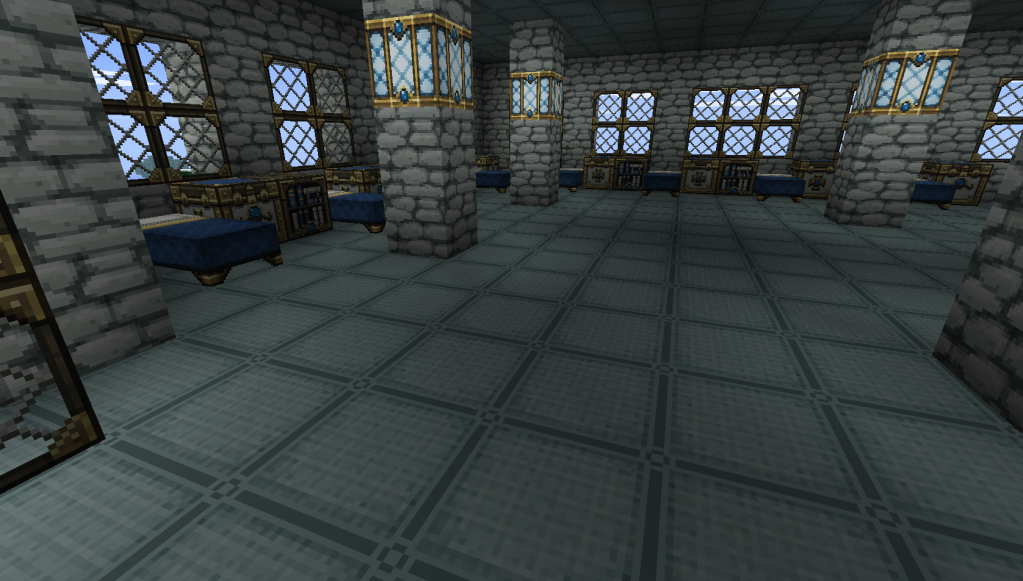 View of the 2nd floor barracks area. I may redo this area, when I make some good looking furniture.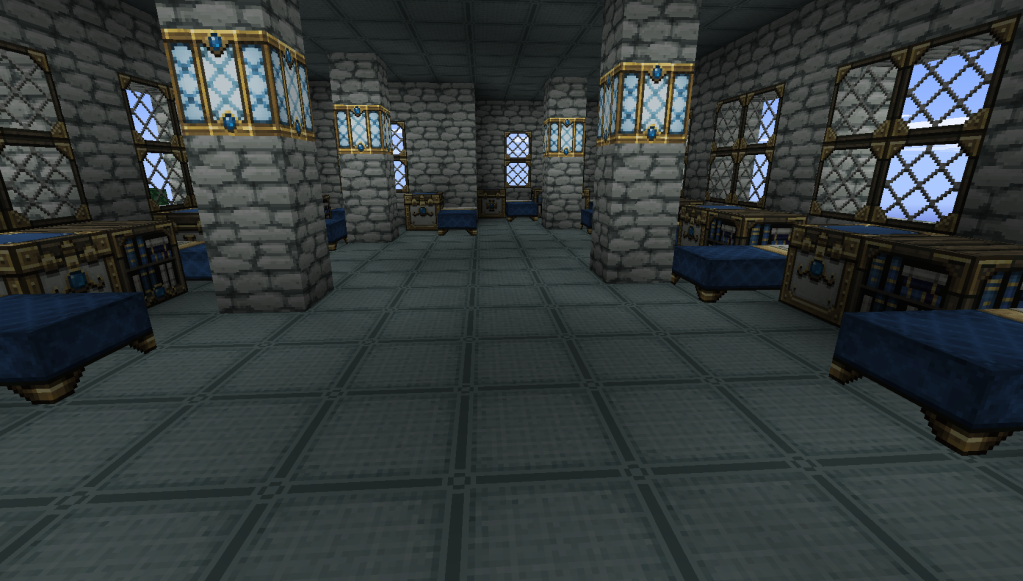 Another view of the 2nd floor barracks area.
View of the 3rd floor barracks area.
Another view of the 3rd floor barracks area.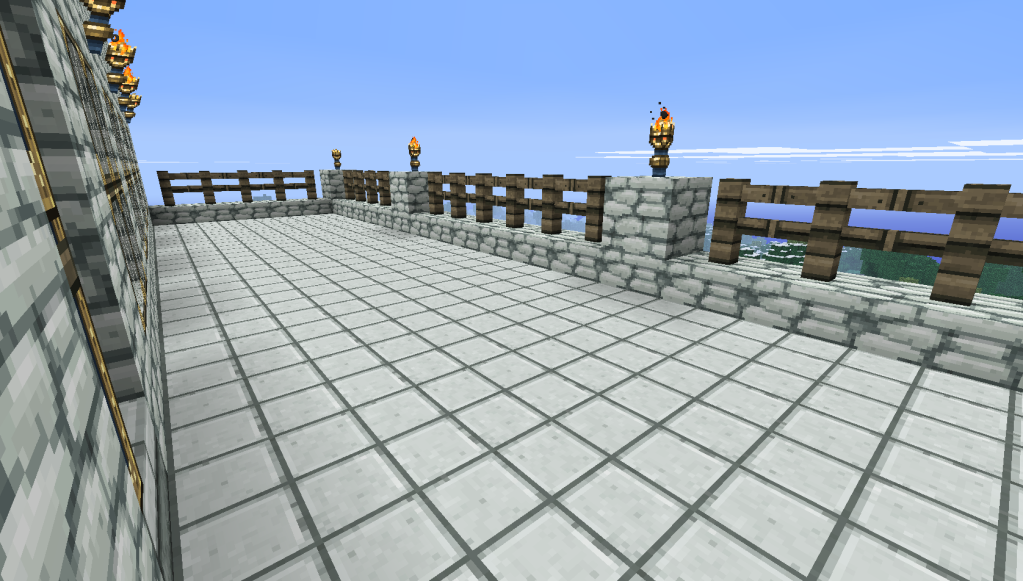 View of the 3rd floor balcony area.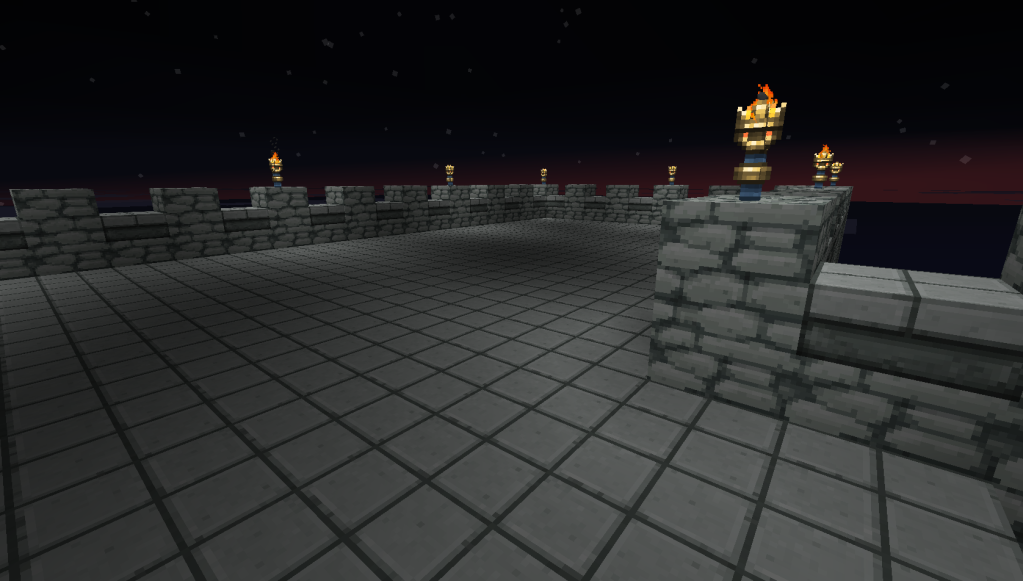 View of the top floor area.
Once I kill a bunch more sheep, or decide how to redo the 2nd floor barracks area, I will add a barracks area to the East Tower area.
First of all, let me preface this post with a brief update.  After a friend saw the last batch of pictures in this project, he suggested I go back to using Dokucraft as my texture pack.  I had used Dokucraft at different times in my previous two worlds, because I liked the old-school, 16-bit SNES RPG feel it gave them.  After seeing McFly's series of posts however, I thought the semi-modern feel Coterie Craft offered would be better.  Comparing the two, and even swapping between the 3 different versions of DokuCraft, I'm liking it for the feel I want in this world as well.  I will be using the High version for most of the pics from now on, but may also have Dark and Light pics to show different "moods" created by each for certain areas.
With that out of the way, on with Arboretum changes!
As I mentioned in part 1, I was trying to grow pine trees in the main arboretum area, with limited success.  So I went ahead, and worked on creating another area, that would represent a snow biome and be exclusively for pine trees.  The area is next to the main arboretum, with a small corridor around the workshop to connect them.  Most of the ground area is snow blocks from the west mountain area, and I've put them along the wall and along the ceiling.  With the 1.6.x update, I've made several runs to the nether to grab more glowstone, now that it gives multiple drops, and have been using it for lighting in both arboretums now.  Plus I like the "lantern" look Dokucraft gives it.
I was very happy the height of this area met the minimum height required for pine trees to grow.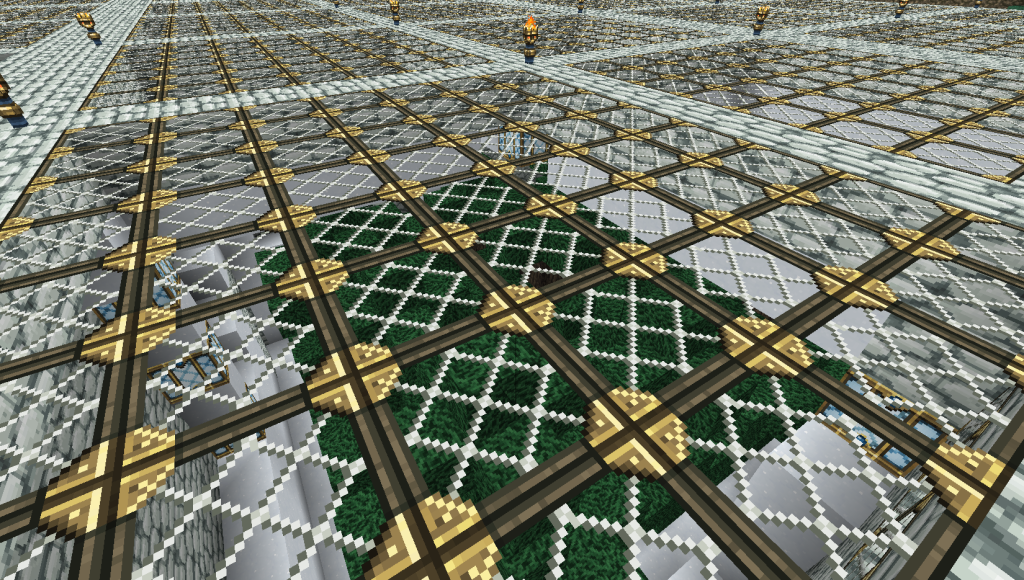 A view from the roof showing off the pines.
I've replaced the "chandeliers" in the main arboretum with glowstone lanterns.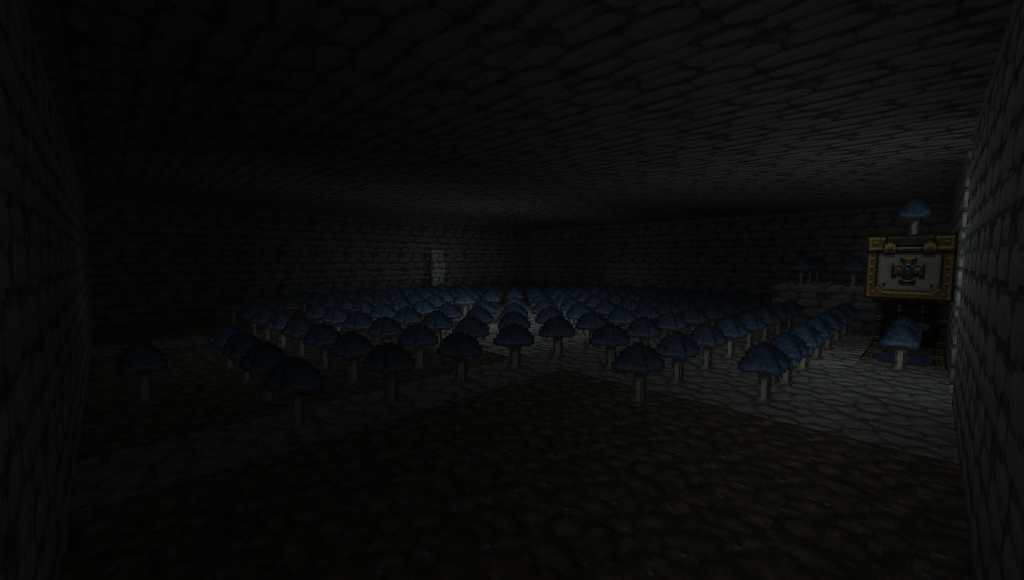 Showing off the mushroom farm and workshop area.  Thanks to the 1.6.x update, the mushrooms have been slowly popping around here.  I removed the torches in here to try and get these things to pop faster.  I'm still planning on adding redstone torches along the floor, and have a switch to light the area.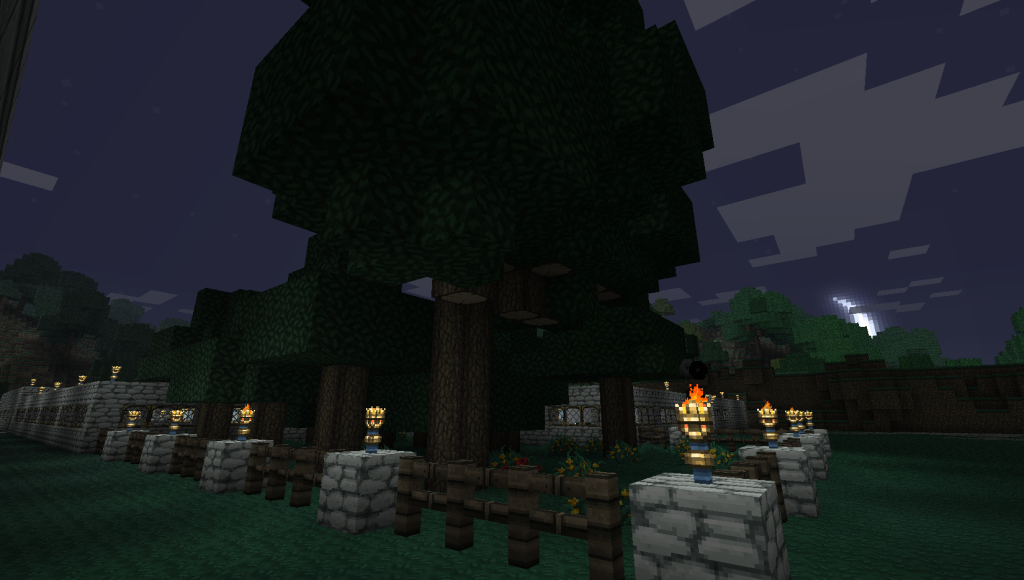 This garden area is in front of the new snow area, and lines it up with the rest of the arboretum. I'm planning on adding park benches here when I get ones I like.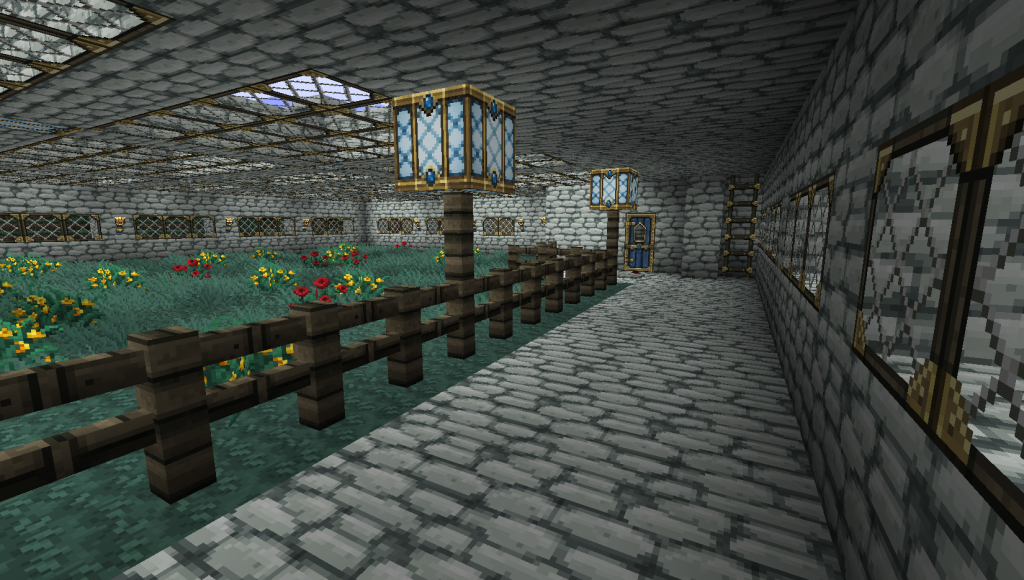 I've replaced the walls in the internal garden area with fences and light posts.  With the 1.6.6 update, I used bonemeal to get the wild grass and flowers to grow in here, and the outer garden area.
Finally, I have made some other changes to the castle areas, thanks to glowstone I've been getting.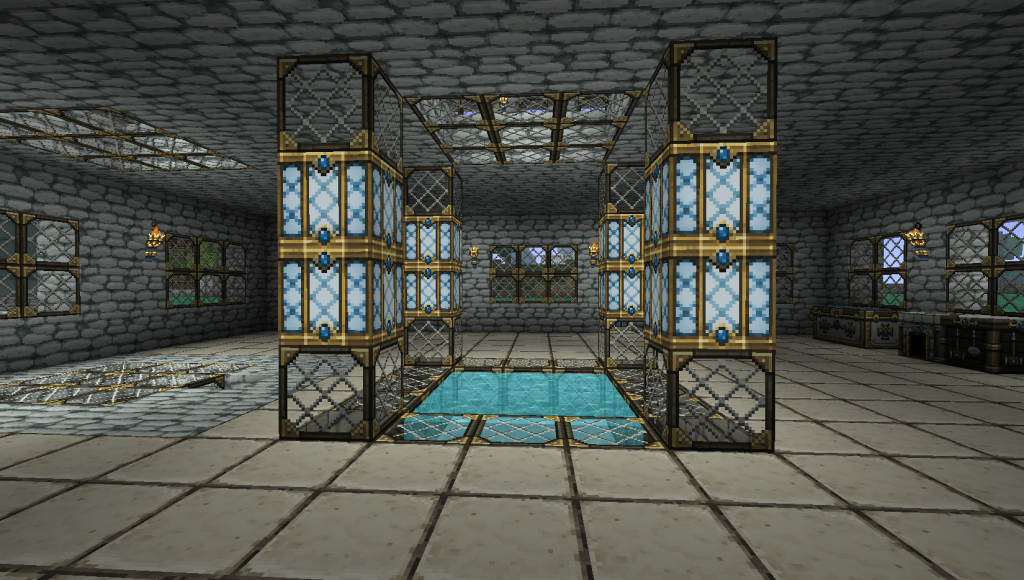 I replaced the old fountain area on the first floor with this cool looking setup.
The cabin tutorial McFly posted has been an inspiration for creating my own houses.  I made some touch-ups to the design, including adding a basement area, and raising the foundation and porch off the ground.  I didn't get a picture of it, but I had to completely clear the area of trees to get all of the wood I needed for the cabin and mine.  I then replanted most of the saplings, making sure they were close to each other, to simulate the area not being kept up.
A view of the front porch.
View from the front door of the inside.  I still need to come back here and make some more furniture.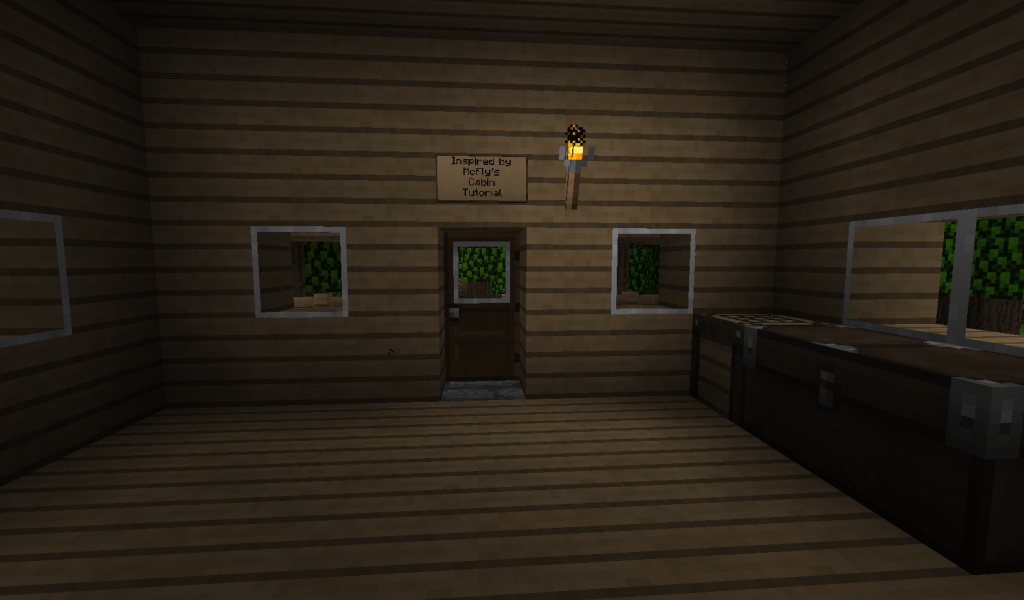 View back towards the front door.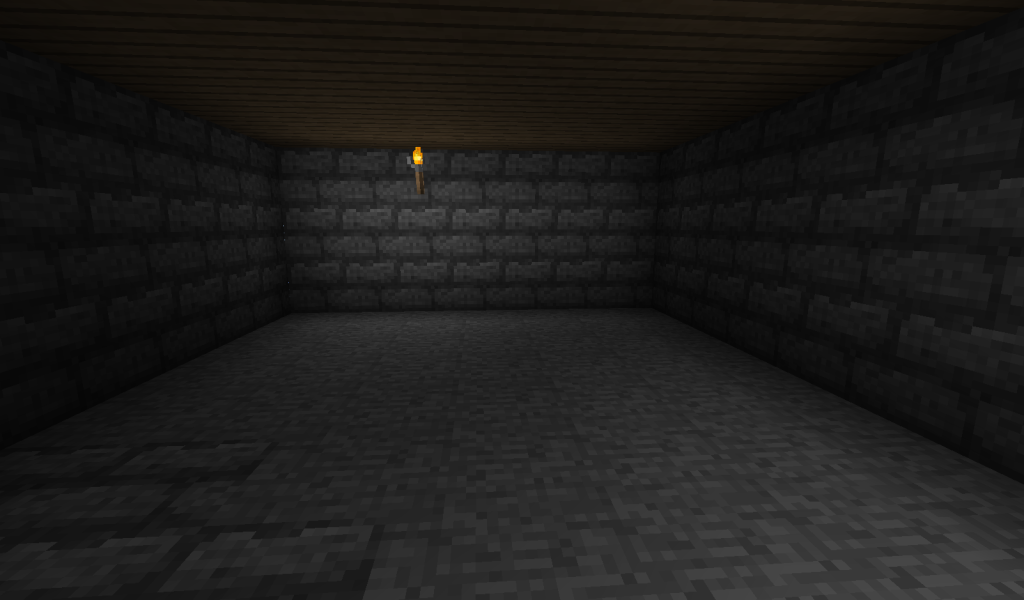 The basement has not been finished yet.  Still debating what to actually put down here.
View from the East Tower.  You can see the roof of the cabin near the middle.
View from the hill where the mine is, looking down on the front porch.  The East Tower is visible in the background.
While clearing the area of trees, the nearby hill looked enticing for something, and I finally decided an iron or coal mine would be perfect.
Front of the mine.  I tried to keep it in the same style as the cabin, except the top is trimmed with wood stairs.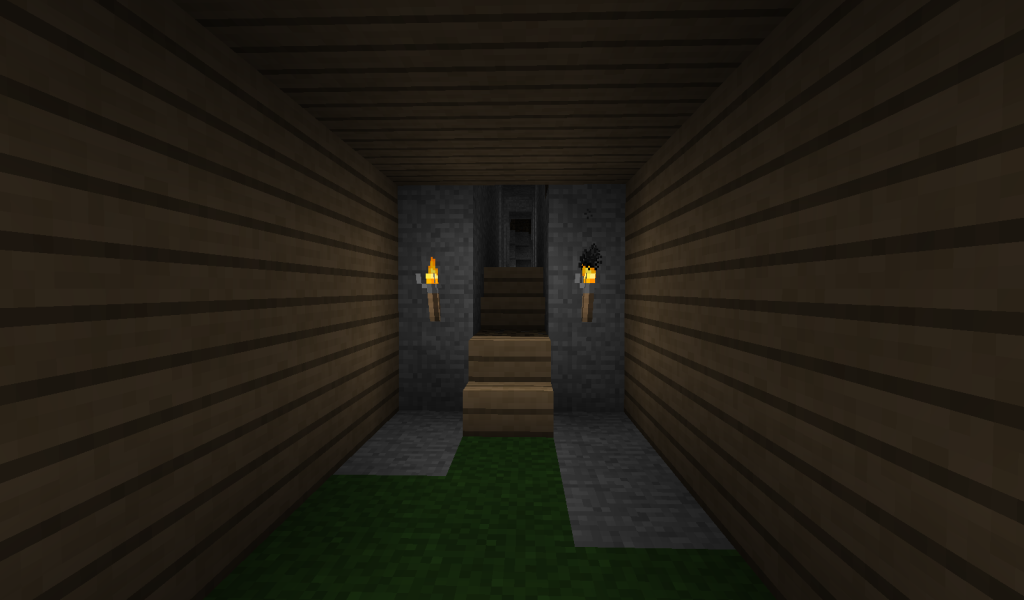 View from the entrance.  I imagine crates of coal or rock along the wall, and maybe a barrel with worn-out pick-axes and shovels.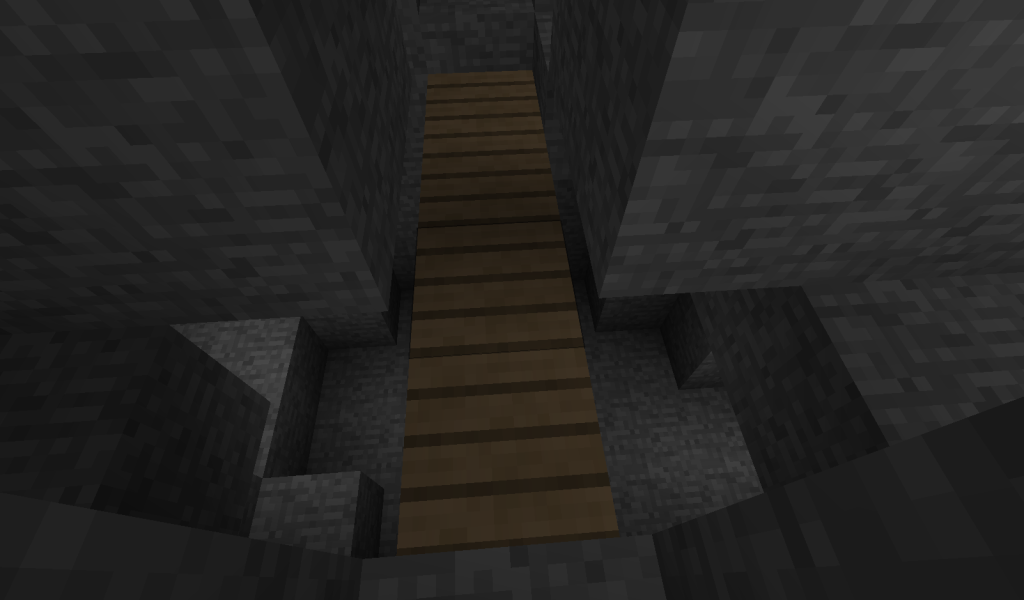 View of a catwalk near the entrance.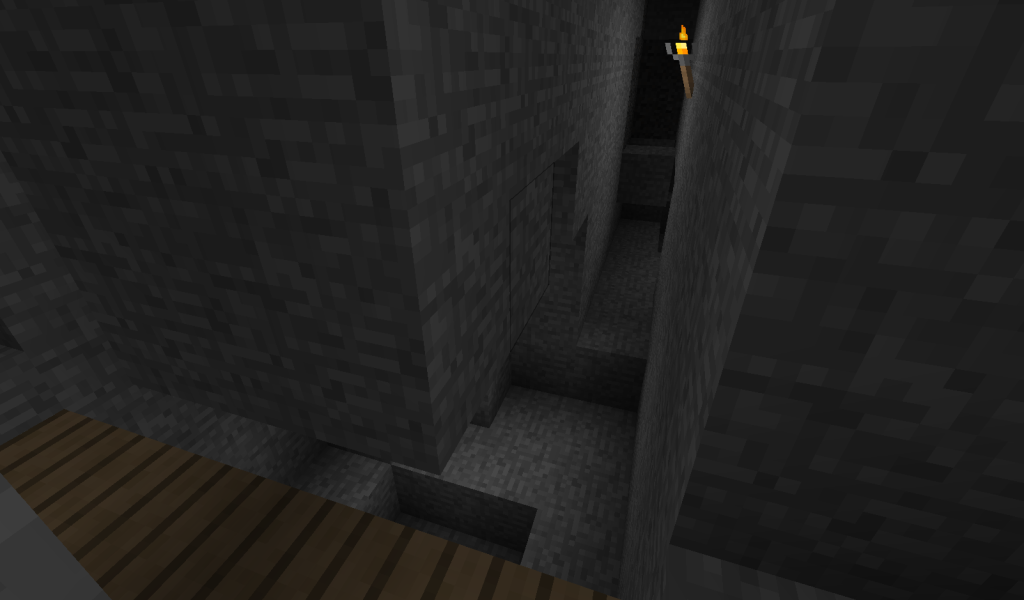 Another view of the first cat-walk.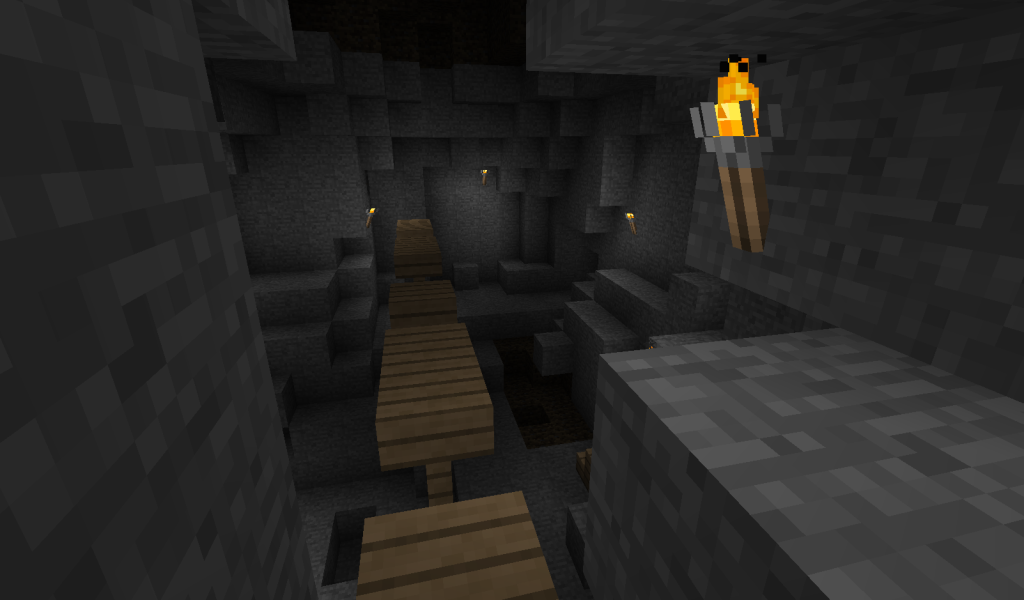 View of the second cat-walk and main mine area.
Another view of the main mine area and second cat-walk from the floor.
A view of one of the side cave areas, and a hole in the roof, with a tree growing near it.

Initially, this was just a small branch mine, with 4 branches on each side.  After spending a night in my dark-room trap collection area, I had enough gunpowder to make 16 TNT blocks.  I then got the idea to come back here, blow up certain sections, clear out some of the main mine area, and make it appear like a TNT charge went off, and caused a cave-in.  I then added the cat-walks in to provide some ambiance for a real mine.
As I noted during my initial explorations, there was a small but long strip of sandy area snuggled in a shallow valley of the eastern area.  I smoothed out an area near the site, and used some cobble to build a small shack for a bench and storage.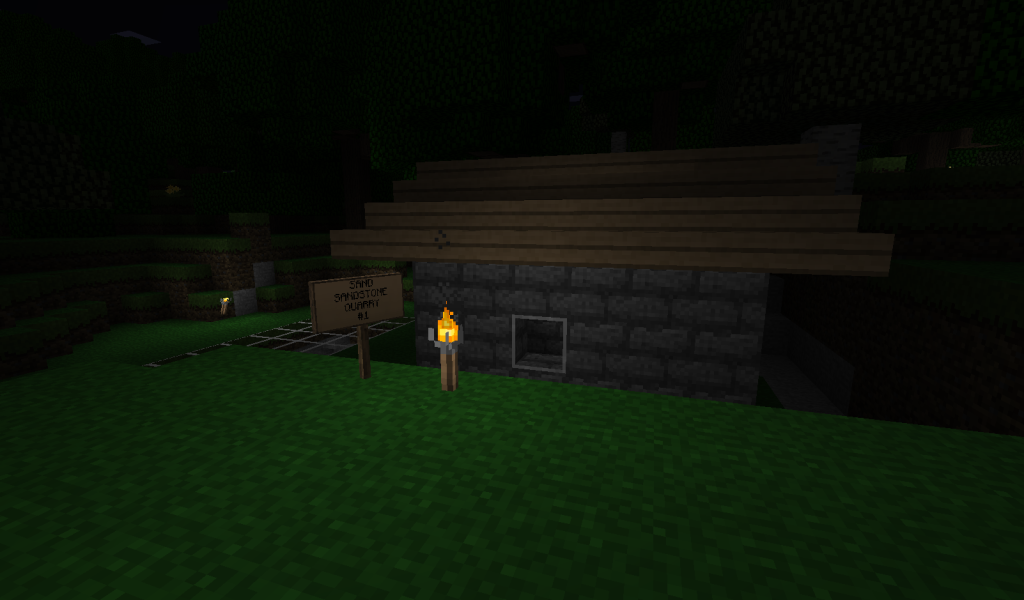 Then I proceeded to level the area of the top sand, and turned that into glass. 
I then placed dirt and glass on the surface area, so that I could mine safely below it.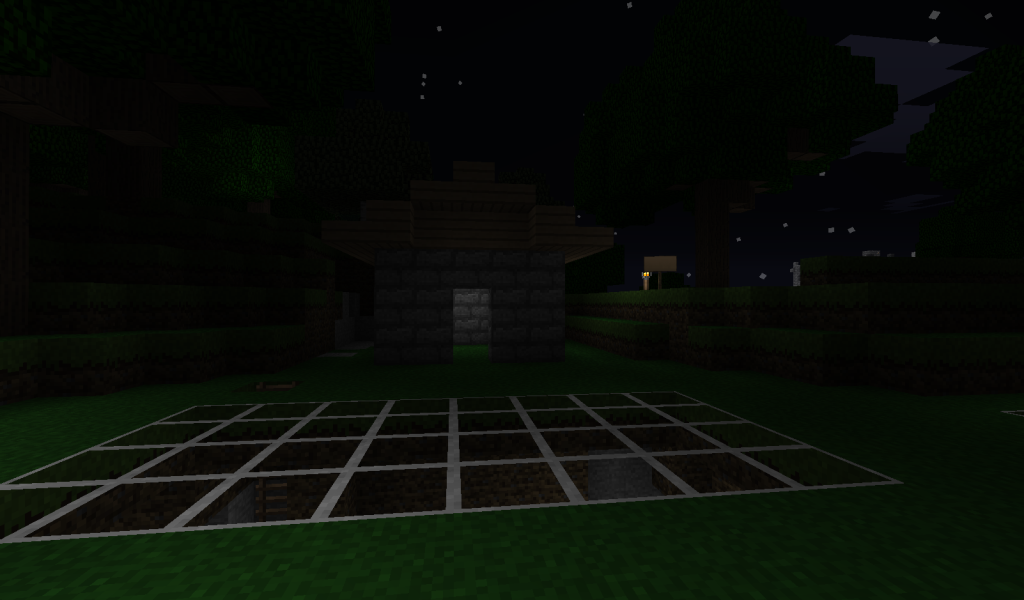 I did strip mine a little, and got plenty of sand, sandstone, cobble, and gravel for building.
The interesting thing, is that near the large hill at the base of the quarry, I kept hearing the ominous cave noises and depending on where I stood, zombie moans.
After completing the arboretum, I came back over to this area to do some exploring.  Like other cave systems in the general area, I figured any found here, would be linked into the main system.  Unfortunately, a family of 3 creepers had moved in and had Mr. and Mrs. Zombie over for dinner, with the main course being me…
The zombies weren't hard to dispatch, but the creepers had short fuses or something, because I would get close to hit them with my sword, and they would almost immediately explode.  After a bunch of respawns and fighting off creepers, the area went from being a smooth, strip-mined area, to a rocky, cratered area.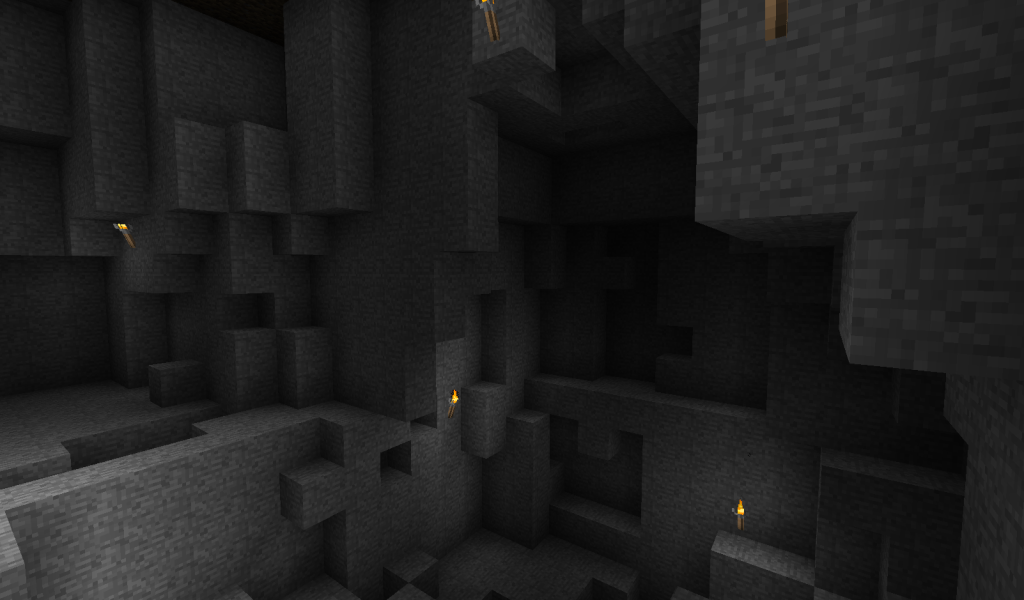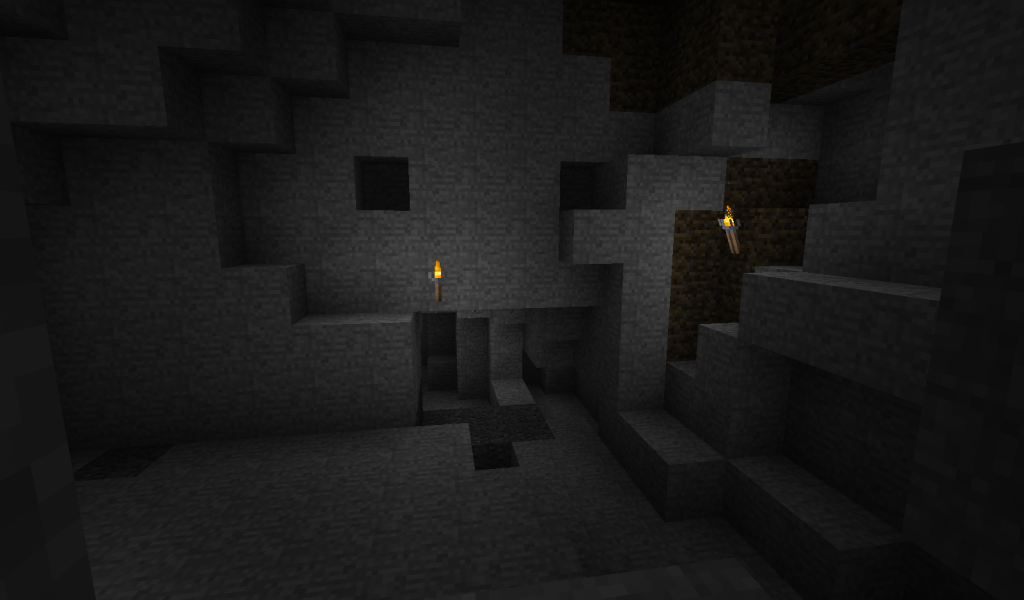 I still haven't fully explored this area yet, and hope to link it in one day with the East Tower and main castle area cave system.
I originally intended the East Tower to be a simple "round" tower design.  However, when I noticed how close to the top of the buildable area I was, a tall, round tower was out of the question.  I then reworked the plans into something new, with its own little bit of history.
The site was originally a Dwarven outpost, guarding the location of an entrance to an underground city.  After a war between the Dwarfs and Trolls, the outpost was left in ruins, and reconstruction was abandoned.
When the Human settlers came, they found the ruins of the outpost, and started to rebuild it.  The tower is visible from the main castle area, and has a view of a nearby desert.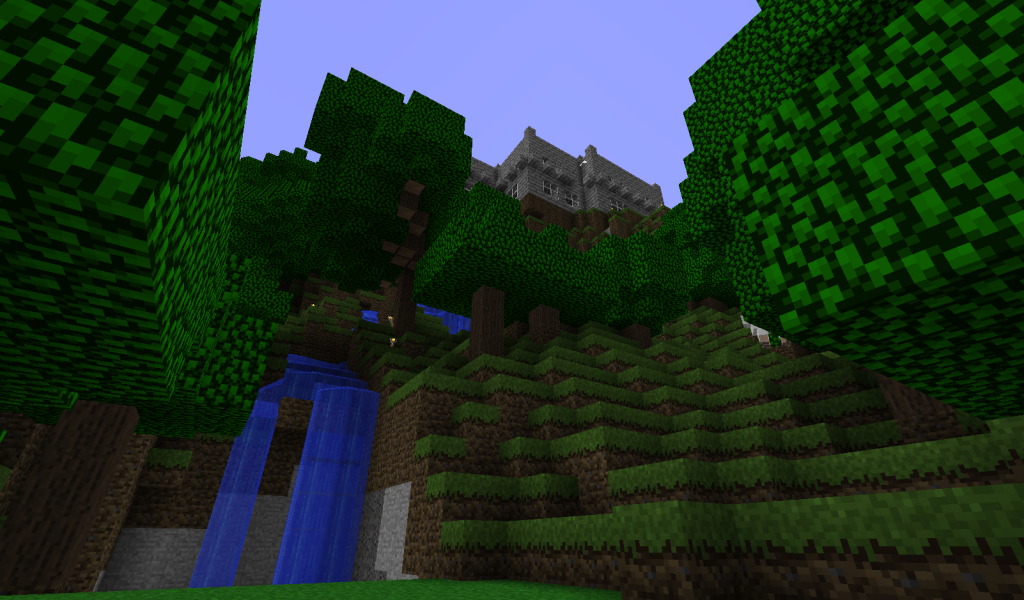 View of the East Tower and a man-made waterfall, which has a source close to the tower.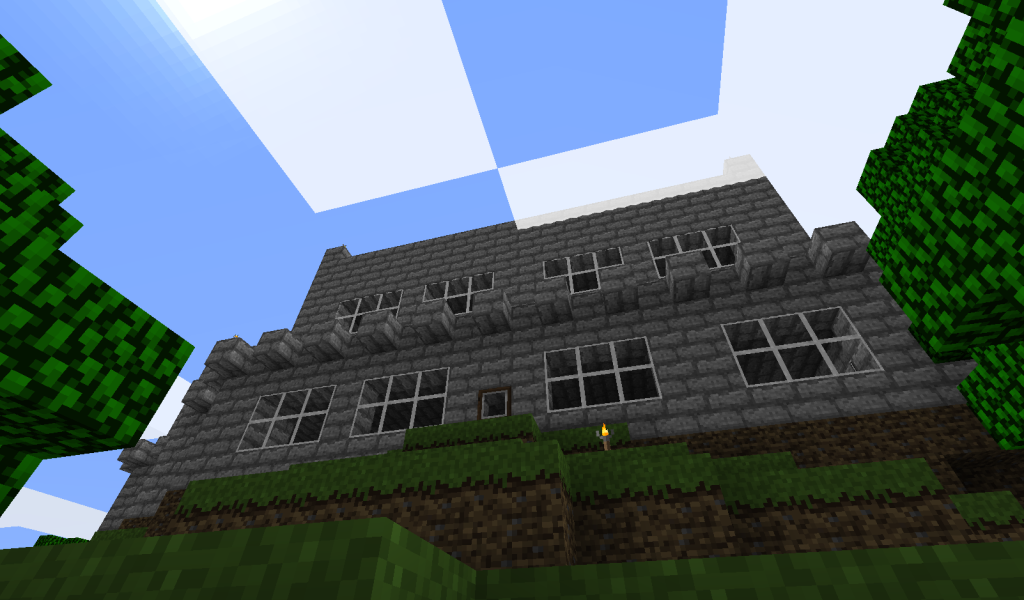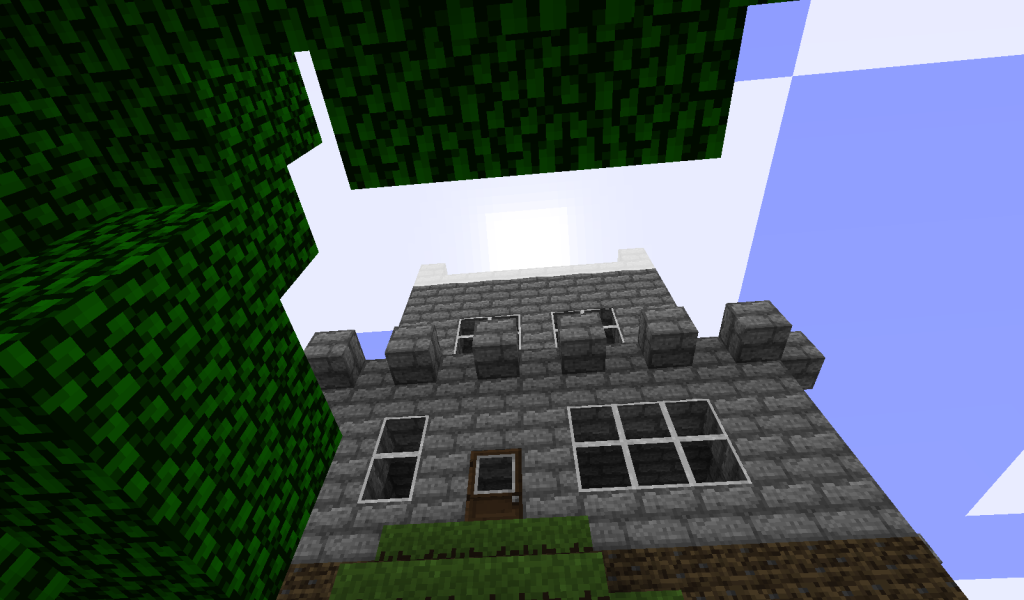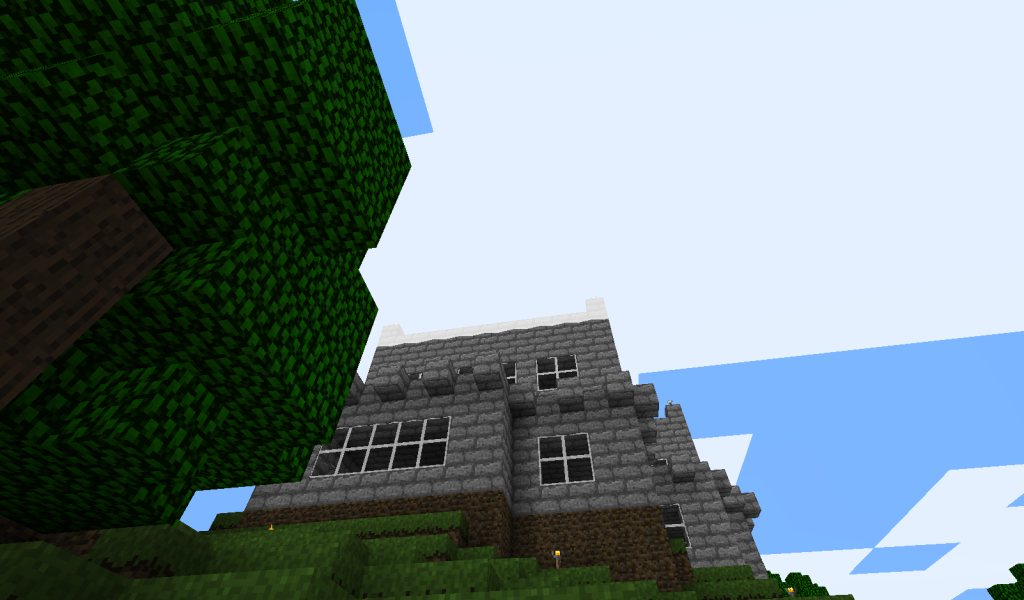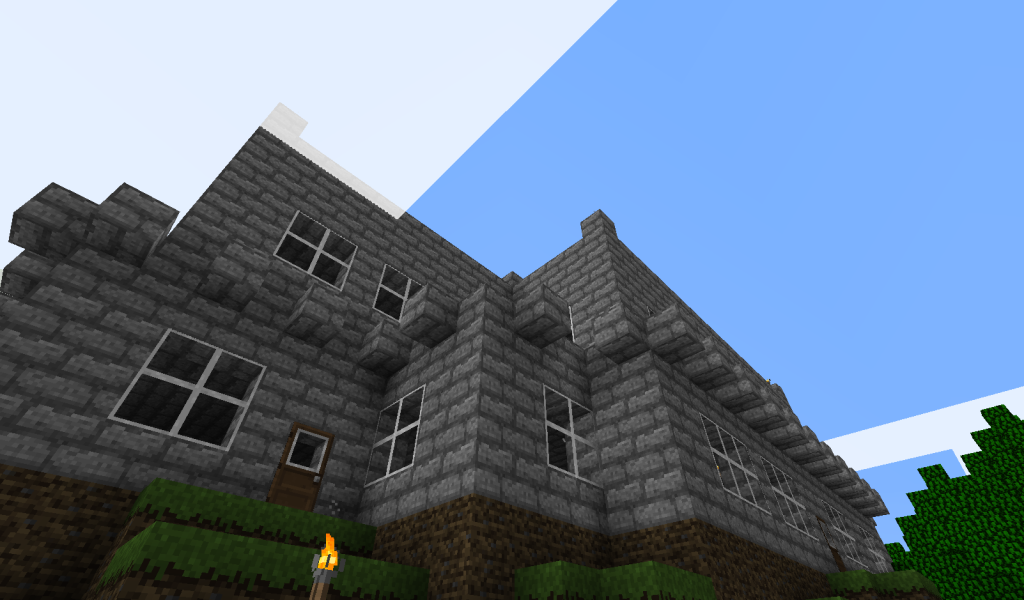 Different views around the tower.
Some pictures of the first floor.  I still need to come back here, and put in some furniture, similar to what I am doing in the West Tower.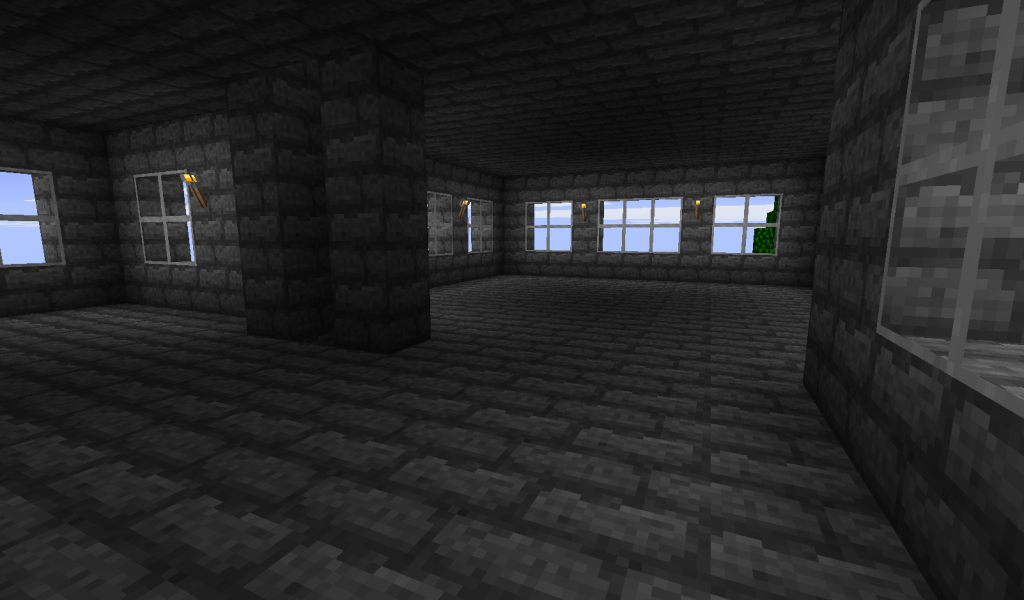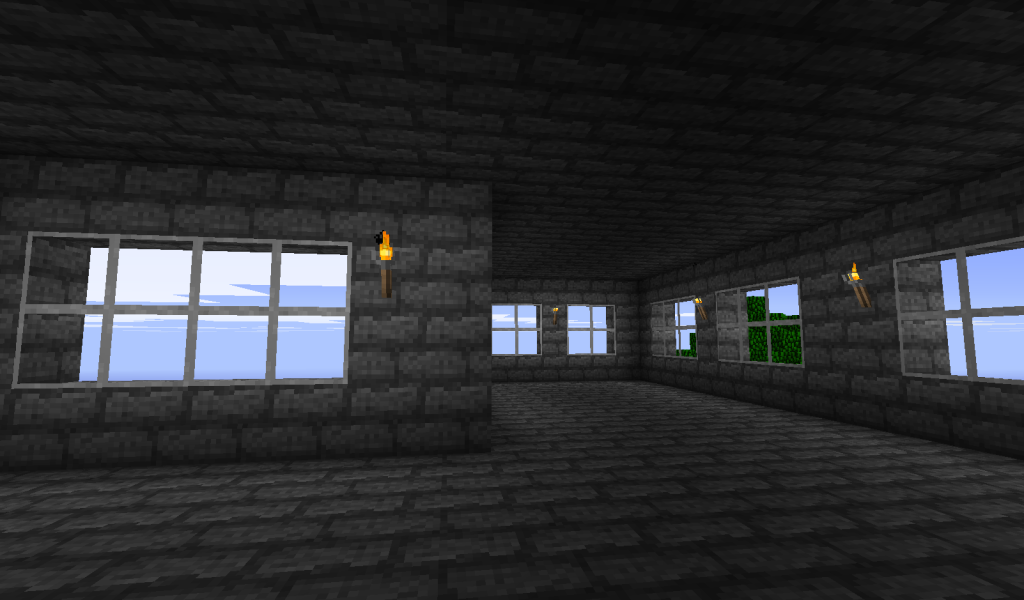 Different views of the second floor.  I'm planing on coming back here, and doing the floor with the same double stone-slab pattern from the first floor.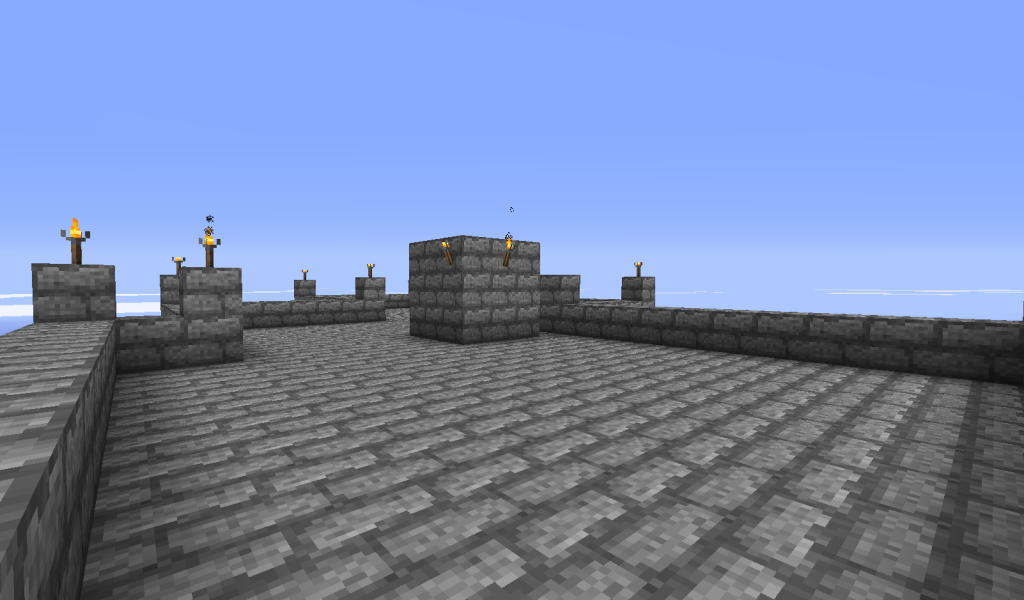 A view of the top floor area.
Furniture crafting ideas
Making houses and stuff this weekend, I kept getting frustrated trying to make good looking furniture.  Here's a couple of ideas for crafting furniture, using the current crafting system.

Large Wood Desk
Acts as a single chest.
requires 2x3 area to place

Large Wood Table
requires 2x3 area to place
you can place things on its surface

Medium Wood Table
requires 2x2 area to place
you can place things on its surface
Small Wood Table
requires a 1x1 area to place
you can place things on its surface

Large Wood Chair
requires 2x2 area to place
right-click to sit down
maybe replace the middle and top left blocks with wool, to make different cushioned versions???

Small Wood Chair
requires 1x1 area to place
right-click to sit down
maybe replace the middle and top left blocks with wool, to make different cushioned versions???

Wood Bench
requires 2x1 area to place
right-click to sit down

Stone Bench
requires 2x1 area to place
right-click to sit down
I decided to put up a short update, since I haven't posted anything this week. 
I'm still working hard on the area around my castle, and those posts will be coming up probably next week.  I have lots of proofing to do still.
New areas include the East and West Towers, Arboretum update (part 3), Hermits Cabin and Wizards Tower. 
I've got sketches on graph paper for most of the buildings now, as well as a several floor plans for different houses.  These may find their way up on here eventually.
With the release of 1.6 and its patches, I have a map of the surrounding area that will get posted soon.  
I've been sketching out some ideas for an underground city/town, using the cave system discovered near the cactus farm.
I do have plans to build 1-3 pyramids, probably of varying heights in that large desert area to the east, and have been sketching out some ideas for how to proceed with this.
Thats all for now!  Happy Minecrafting!
While looking through different players worlds, I've noticed things like shops, and bakeries, and blacksmiths and other places where crafted items could be made, and thought, "What if there was a more advanced crafting system in place?"  The more I thought about it, it makes sense, and wouldn't have to mess up the existing system much.  So lets look at the basics of the system, and then show what this could allow to be crafted.
The Workbench
The basic workbench as it is implemented is a powerful tool, but has some limitations in what can be made, at least based on the existing recipes and the shapes used.  I've seen some people propose expanding the grid to 4x4 or even 5x5, but I don't think its really necessary.  Using specialized crafting workbenches fixes our problem.  So first of all, what can still be made by workbench as it exists now?  For one, all of the wood and stone tools and weapons, the leather armor, and several other basic recipes that do not make sense being crafted using one of the specialized work areas.  In addition, all of the specialized work benches should be crafted here, because it makes some sense to not just allow them to be built using the 2x2 personal crafting area.
The Anvil

Created using 2 iron and 2 wood planks, cobblestone or even smooth stone blocks.
The anvil is used to make all of the iron, gold, and diamond tools, weapons, and armor. 
In addition, other metal based items like the iron door and mine carts and tracks are created here. 
The compass and watch can still be created using the basic workbench.
The Saw horse or Carpenters Bench


To create the saw horse, you could do a 2x2 stick pattern, and for the carpenters bench, 2 wood planks over 2 sticks. 
Only one of these items is necessary, but both are possible ideas. 
These items are used to make some of the more advanced wood designs, such as the fences, boats, doors, beds, and maybe chests. 
In addition, these items would be able to make new furniture, such as shelves, tables, chairs, and maybe thrones?
Plus, some of the items players have been wanting like fence gates could be created with this using a 2x2 stick pattern.
The Stove

It would require coal still to run, and could be made in a 2x2 pattern using cobblestone or smooth stone.
While we do have a furnace for smelting things, making glass green dye, the stove would be used for baking things, such as bread, cakes, cookies, mushroom stew, the cooked ham and fish, and other new food items. 
The Potters Wheel


The potters wheel is created with two clay blocks on top of either 2 wood planks or sticks.
In order to make some of the cave items I've proposed, a potters wheel makes sense to craft these items. 
In addition to the the cave items, maybe some other new clay, dirt, gravel, sand, and sandstone creations can be made.
More Recipes!
Because of these specialized crafting areas, more recipes are possible for different areas.  In addition, similar patterns can be used multiple times, using different craft areas.  For example, notice I said the saw horse could be created using a 2x2 stick pattern and the basic workbench, and the fence gate could be made using a 2x2 stick pattern and the woodworking craft area.
As part of the post on spelunking, I do want to give some ideas on what I would like to see added to make caverns even cooler!
Crystals
Akin to the flowers on the surface, crystals form in the caves and can be found in layers 1-40, or bedrock until 10 layers below sea level. 
Like flowers and mushrooms, one hit from any item will pick it up. 
Crystals can be found in any of the dye colors. 
Crystal is crafted from one block of sand, or one sand block and a dye.
Crystal and glass in the pattern to make dynamite, will make stained glass.
Like glass and glowstone, breaks no matter what its hit with after 2 or 3 hits.
Is crafted from dirt, sand, gravel, or smooth stone, as a filled in triangle.
Completely destroyed by TNT or creeper explosions.
Like glass and glowstone, breaks no matter what its hit with after 2 or 3 hits.
Is crafted from dirt, sand, gravel, or smooth stone, as an upside down filled in triangle.
Completely destroyed by TNT or creeper explosions.
After a few hits with a pick, will separate into 1 stalactite and 1 stalagmite.
Two different ways to craft it
Method 1:  Using dirt, gravel, sand, or smooth stone, make a vertical 1x3 line in the grid.
Method 2:  Using 1 stalactite and 1 stalagmite.
Completely destroyed by TNT or creeper explosions.
Maybe some other cave formations that can be made using dirt and/or gravel, such as a cave popcorn entity - 1 gravel or dirt, and 1 crystal.  Or a group of soda straws as one entity, made from 2 stacked crystals.  Both can be destroyed in 1 or 2 hits.
In addition, I would like to see something, that would benefit in other areas — colored light.  While we do technically have a reddish light with redstone torches, colored light is the same light strength as a normal torch.  Maybe it can be crafted in two ways, possibly using the torch recipe with the 3rd vertical block as a colored crystal, or replacing the stick with smooth stone or iron, to form a colored lantern?
Growing up, I enjoyed visiting the local caves and caverns, such as Carlsbad Caverns National Park in Carlsbad, New Mexico, the Caverns of Sonora in Sonora, Texas, and Natural Bridge Caverns north of San Antonio, Texas.  I even had the opportunity once to go see Mammoth Cave National Park in Kentucky and visit some nearby tour caves.  Walking around, especially along the unguided tours in Carlsbad Caverns, you were treated to beautiful, fragile formations, and magnificent stalagmites, stalactites, and columns.
While the caves in Minecraft may not provide the same beauty as real ones, the danger and perils involved in exploring these underground areas can be quite exhilarating. Everyone who has played Minecraft has at least once found themselves deep in a cave, their hearts racing as they explore the different branches and winding corridors, fending off the nasties that appear, and peaking down into those dark holes to see what they can see.  I know myself, I've also had near heart attacks as creepers and skeletons have seemingly dropped out of the ceiling delivering their quick attacks to force a respawn.

Once I have cleared the caves though, I have found myself walking though, and marveling at what I have found.  Torches initially placed to provide proper light coverage, now highlighting a feature in the cave and letting the imagination wander as to the different things it looks like.  I've also found the entrances to the caves interesting, whether they are typical holes in the sides of mountains or in the ground, to the very small sinkhole style ones with their long drops to doom.

Terrain generation in this game can lead to some anomalous results as well, especially for those maps created before the chunk generation algorithm changed.  In my previous world, I found a cave in the side of a mountain near a surface lava-fall which was quite expansive.  The interesting thing about it though, was that one branch off of the main corridor led up, several layers above sea-level, and led to an area exposed to the sky on top of a mountain near the entrance, with a view of the lava-fall and the sheer cliff face.

One of the projects I plan to do in this world, which will probably have an accompanying tutorial, will be to create a show cave, near a village for "tourists" to come and explore.  I will show some things I have done to simulate the beautiful formations that can be found in real caves, as well as the natural stalagmites, stalactites, and columns.  In addition, I will show how as I described above, lighting can play a role in showcasing formations in your cave.  So yall can look for that some time in the future!
World Notes
I spent Sunday through Tuesday last week clearing out 3 local cave systems of dirt, gravel, sand, sandstone, and the occasional ore, diamond, or redstone.  Most of this "junk" found its way into my storage, but not for long!
I spent my time on Wednesday and Thursday, filling in some of the water surrounding the castle.  The ground over it is 2 dirt layers, and I was able to reuse some of the gravel and sand from areas that were done, although this does mean there's some small caves and pockets below the surface.  There's still some pockets of water underneath I haven't dealt with, but I have marked with sandstone "plugs"
While filling in part of the west side, I made sure to go ahead and create a dark room trap.  The collection point is about 5 layers above my spider trap area.  While its not that big, I swear there's like a Queen Creeper in there, pumping out the the little drone Creepers.  I let the trap run over night on Friday, and had collected 6 stacks of arrows, 8 stacks of bones, 2 stacks of feathers, and 3 stacks of gunpowder!
Saturday, and a bit of Sunday was spent putting together the east side tower, which there will be a post about later.
I also spent Sunday working on a cabin and mine in the valley below the new tower, and there will be a post about this later as well.
I've got a big project started in some area marked off during the "Great Fill-in", next to the arboretum, which I want to use as a pine area.  The others aren't growing like I thought they would, so I have redone that area of the main arboretum as birch.
After that, the next big project, before working on the west side tower, is to start work on a wall.  I am planning on using the hill area behind the arboretum to my advantage to create a natural wall on that side. 
It's interesting what you can find, when you start to build.  Take the cactus farm for example.  Originally planned in the arboretum, I moved it to the 2nd sand/sandstone quarry area to give quick access to sand and glass.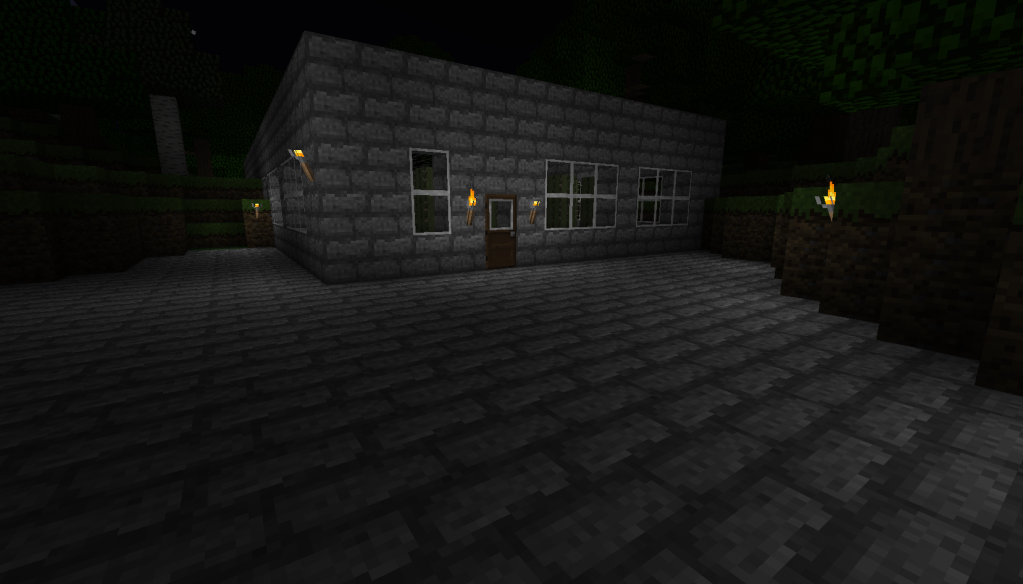 While building a small work area for a workbench and some furnaces, I kept hearing angry spider sounds, despite it being during the day, and no spiders around.
While building the foundation of the cactus farm building, I continued to hear spider sounds, and as I dug down, caused a minor cave-in of some surrounding sand.  The cave that opened up before my eyes had an immediate upside: mossy and normal cobblestone walls — a spider dungeon.  I quickly worked to secure the area, so no more spiders could get out later, and then worked on creating a basic trap so I could get some string.
Once I completed the main cactus farm, I decided to create a smaller, automated version, using the trick where a cactus cannot occupy a space with blocks on any of its sides.
Using moving water, the cactus blocks are whisked to a collection point near the spider trap.